Format
Workshop contributions should be either full papers (12 pages) or short papers (8 pages), including figures and references:
---
---
---
Submission
All proposed papers must be submitted in electronic form (PDF format) using the MIS4TEL conference management system.
---
---
---
Review process
MIS4TEL welcomes the submission of papers and gives preference to the topics listed under the call. All submitted papers will undergo a thorough review process; each paper will be refereed by at least three experts in the field based on relevance, originality, significance, quality and clarity.
The papers must consist of original, relevant and previously unpublished sound research results related to any of the topics of the conference.
---
---
---
Publication
Accepted papers will be included in MIS4TEL Proceedings. At least one of the authors will be required to register and attend the symposium to present the paper in order to include the paper in the conference proceedings. All the accepted papers will be published by Lecture Notes in Networks and Systems series of Springer Verlag.
Please, remember that for the accepted version of your paper you must fill out and sign the Consent to Publish and send it back.
---
---
---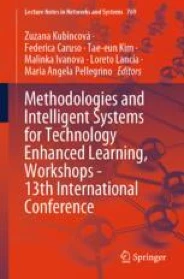 Proceedings of MIS4TEL 2023 (Workshops) are available:
Methodologies and Intelligent Systems for Technology Enhanced Learning, Workshops
13th International Conference
Editors: Zuzana Kubincová, Federica Caruso, Tae-eun Kim, Malinka Ivanova, Loreto Lancia, Maria Angela Pellegrino
More information